T-Mobile ad reminds us that the iPhone "4" doesn't mean "4G"
16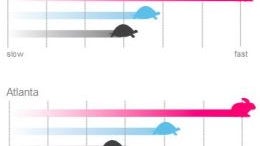 T-Mobile is truly branding itself as an adversarial
advertiser
. Their most recent campaign, called 'The State of the Smartphone', features a comparison between
T-Mobile
, and the iPhone 4 on both Verizon and AT&T.
The graph portrays
AT&T
and
Verizon
as the blue and gray tortoises, and T-Mobile as the magenta hare. While the graph loses some legitimacy by not including actual measurements, we're sure the visual comparison will have an effect.
The ad goes on to say that "Despite the '4', both the Verizon and AT&T iPhones run on 3G networks." This sounds like T-Mobile is accusing
Apple
of misleading consumers with the "iPhone
4
" designation. We doubt anyone was fooled, but we can't blame T-Mobile for covering their bases.
T-Mobile makes sure to compare data prices as well, showing T-Mobile's at $10, AT&T's at $15, and Verizon's at $29.99. Of course, they fail to mention that their $10 plan is for 200MB (as is AT&T's $15 plan), and Verizon's $29.99 is for
unlimited
data. What do you think? Is T-Mobile taking too much artistic license with their ads?
source:
T-Mobile
via
Engadget