T-Mobile UK launches "Full Monty" unlimited plans
5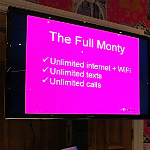 T-Mobile UK is finally bringing back a proper unlimited plan. The plan was announced today and will be made available to all T-Mobile UK customers and all phones starting on Wednesday, February 1st. The announcement was put under the marketing name the "Full Monty".
The plan includes unlimited text, data and voice and will cost £41 per month on a two year contract. Possibly the best part of the deal is that it features no "fair use" restrictions on your Internet connection, which means you can use your data connection how you want for streaming, downloading, using P2P file sharing, VoIP calls or even tethering your phone. Not a bad deal.
T-Mobile UK is also trying to sneak in a £36 per month plan into the "Full Monty" promo, but it's not really unlimited. It has unlimited text and data, but only 2000 minutes of talk to off-network numbers.