T-Mobile BlackBerry Onyx 9700 makes a Bold statement
This article contains unofficial information.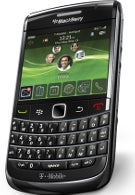 Onyx
9700, due out before the end of the year. The first thing is that we probably could call the device the BlackBerry Bold 9700 because the name "Bold" is actually printed on the back of the handset. Regardless of what you call it, the 9700 is going to come preloaded with some apps from App World, including Amazon's MP3 store for quick music downloads. Other features include Wi-Fi, high-speed web browsing, 5MP camera and TeleNav GPS.
Apparently, the T-Mobile version will have different specs than other GSM models like the one AT&T will be offering. With a different processor and using the same battery found in the Curve8900/Storm/Tour , the idea is to have the T-Mobile USA unit be exactly like the version sold by T-Mobile in the rest of the world. This way the phone could work on the carrier's 3G network in the U.S. and in Europe. The other fellows like AT&T, Rogers and Vodafone will not have to include T-Mobile's HSPA frequencies on their radio. More information is expected to be released in November and until then, let's just call it the BlackBerry Onyx 9700.
RIM BlackBerry Onyx 9700 Preliminary Specifications
source:
CIO
via
BlackBerryCool