Symbian owners click on ads more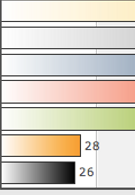 Considering the popularity of the iPhone and the momentum of Android, you would think that one of those two OS would be the top choice for advertisers on where to put mobile ads. If you guessed that either platform would be the leader in the all important "click-through rates" that advertisers want, you'd be wrong. Instead, it is Symbian that leads the way. Taking the average click-through rate (ctr) on all mobile platforms and setting it to 100, Symbian leads with a score of 161 followed by the 119 of the iPhone. With a 112 score, Windows Mobile is third. Following an 84 score for featurephones, Android comes next with a score of 65, followed by Palm and BlackBerry with scores of 28 and 26 respectively.
So just why do owners of Symbian powered phones click on ads more often? Nokia phones make up 46.2% of the devices tracked for the chart and that is a huge advantage. On the other hand, RIM's BlackBerry was second in the number of units tracked with 20.6%. Based on those stats, BlackBerry should have a much higher score than it has. Perhaps 'Berry owners are too wrapped up in business deals and mergers to click on a mobile ad. The iPhone makes up 17.8% of the phones tracked, making a big jmp over the year. The company that did the study, Smaato, expects the Android platform to show the biggest jump in ownership in 2010, going from the 3.5% last year to an expected 10% in 2010.
source:
Smaato
via
TechCrunch