SwiftKey Cloud no longer in beta, released to all in the Play Store
7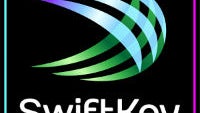 SwiftKey is one of the best alternative keyboards available for Android, and a big part of that is the prediction algorithms that can tell you the next word you want before you've even begun typing. One way that SwiftKey has found to improve those algorithms even more is to learn how you write by scanning your Gmail, Facebook, Twitter, Yahoo, SMS, and blog instead of learning as you type.
Of course, that has meant that you have to login to any or all of those services on each device where you have SwiftKey installed. But, SwiftKey Cloud is the way to unify all of that by connecting those services to the cloud, and leaving you with just one login to get all of your data synced. SwiftKey Cloud also syncs your personal dictionary, and trending news topics, so you can easily discuss current events without worrying about spelling words correctly.
SwiftKey Cloud had been in beta, but now it is part of the full version available in the Google Play Store. There is a free version of SwiftKey which offers a 30-day trial, or the full version is on sale right now for just $2.99, which is half off the normal price.
Download: