Swift Remote is an Android to desktop remote control app for the multimedia fanatics
7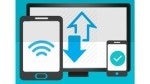 Among the many things a smartphone can be, "desktop computer remote control" probably isn't the first to surface in your mind. Yet, thanks to the Swift Remote app, it can do that too, and do it mighty fine! Swift Remote connects (over Wi-Fi) to an application installed on your computer, and provides a simple interface to handle the tasks at hand. File sending is among the most convenient, as it greatly simplifies file transfers between Android and PC. Then, you get to the Remote Controls section, which is partitioned into Windows Controls, WMP Controls, Mouse Control, and Custom Commands.
In Windows Controls, you get the options to make your computer sleep, hibernate, turn off, and restart. You can also set or cancel a shutdown timer, control brightness and volume, lock & log off, or use wake on LAN. In the Windows Media Player controls section, which is also compliant with the popular Media Player Classic, you'll find everything you expect from a multimedia remote, including Shuffle & Repeat buttons.
Mouse Control turns your device's display into a huge touch pad, complete with left and right click buttons and a scroll wheel emulation. You can also assign custom commands and use a command prompt via NirCmd (a popular command line control utility for Windows).
In addition to its remote control facilities, Swift Remote lets you connect multiple devices to the desktop application, and send messages between device and desktop. Swift Remote is very useful and well supported, especially for a free app. It's available in Google Play, and we recommend you give it a try.