Survey shows the iPad mini creates new market for Apple, rather than eat into iPad sales
24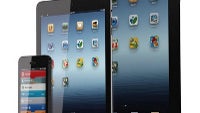 When the
iPad mini
came out, some analysts thought it might cannibalize the sales of the existing iPad franchise with its comparatively low price,
to which possibility Tim Cook answered
""
We have learned over the years not to worry about cannibalization of our own product. It's much better for us to do that than for somebody else to do it.
"
The first survey of consumer intentions regarding Apple's smaller iPad by Cowen shows that it might actually create more new market for Cupertino, rather than cannibalize iPad sales.
The survey was done with a sample of 1,225 respondents,. and half of the 12% who intended to get an iPad mini over the next 18 months said they'd never had a tablet before. In fact, only a third of those said they will replace an iPad with it, whereas 42% said they will get it instead of a Windows-based computer, and 13% instead of a
Kindle Fire
.
Cowen analyst Matthew Hoffman explained:
The iPad mini creates more demand than it cannibalizes. Since 52 percent of the mini intenders in our sample did not own a tablet of any type, we see it successfully positioned as likely to penetrate new entry-tier segments. … Mini will no doubt take some iPad "4″ sales, but its low price also looks like an important tool to capture new consumers' attention.
In other words, Apple seems to be achieving its goal to move into a niche market it didn't have presence before, of smaller tablets, for the sake mostly of computer purchases and Android slates, rather than existing iPads. Tim Cook reported record
3 million iPad 4 and mini sales in launch weekend,
which, when compared to the
new iPad
launch, even if not evenly split, shows that Apple is largely creating a new market with the iPad mini for itself, rather than encroach on its other slates.