Survey of Verizon reps says that the HTC ThunderBolt is outselling the Apple iPhone 4
23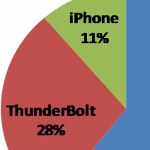 Research firm BTIG decided to find out if the Apple iPhone was reigning supreme at Verizon. So the firm got their people on the phone and called 150 Verizon stores in 22 cities and asked sales reps which model was selling better, the Apple iPhone 4 or the HTC ThunderBolt. The latter device is the carrier's first 4G enabled handset.
61% of the reps said that both models were selling at the same pace. 28% told BTIG that the HTC ThunderBolt was outselling the Apple iPhone 4 while 11% said that the iPhone was outselling the ThunderBolt.
Until Verizon reveals precise sales figures for both phones, we are left with unofficial surveys like this one to determine which of the two models is selling the most units for the carrier. While other research firms have reported that Android as a whole has been outselling Apple's handset, those figures are comparing a number of Android handsets against just one model. If the ThunderBolt is indeed outselling the iPhone 4, it would be the first Android phone to go up against the iOS flavored handset
one on one
and win.
We recently compared both models and you can read our conclusions by clicking on this
link
.
source:
AndroidCentral