Surprise! The Nexus 6 has a hidden LED notification light
60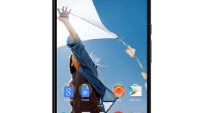 Google loves LED notification lights on its Nexus devices, but it doesn't always put them to use. In fact, Google doesn't always even let anyone know that the LED exists in the device at all. That's what has happened with the Nexus 6, which it turns out has its own hidden LED notification light; although, you can't do much with it unless you're a root user.
It turns out that the Nexus 6 has an LED light in a somewhat odd place - behind the top speaker grille. It is a full RGB LED light, but as noted before, you can't use it unless you have rooted your system. And, even then, the options are basically non-existent because there is no software to properly take advantage of it. Light Flow can't interact with it correctly, and reports are saying no matter what color you choose with it, the LED displays green. However, as you can see below, other colors can be displayed.
It should also be noted that this is nothing new for Motorola devices. Both the new Moto X, the old Moto X, and all of the DROIDs have hidden LED lights that are only used to indicate when the battery is depleted so much that the phone can't turn on the display at all. This feature doesn't seem to be part of the Nexus 6, but the light is there anyway.