Surprise! Most consumers don't care if they are using iOS, Android or Windows
26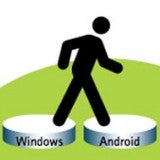 Research company Accenture has come up with some pretty interesting results from its latest study. It wanted to see what part of phone and tablet consumers feel seriously attached to a particular brand or OS, as well as what are the main reasons to make people switch platforms. We say the results are interesting, because they show us that 66% of all users aren't really loyal to any particular OS. That's an interesting finding because we thought that the type of OS was a bigger factor. Well, it probably is for the hardcore crowd.
The most frequent reasons for users to switch their mobile OS include:
"I want to see what else is out there on the market."
"I think I could have a better user experience with another operating system."
"I think I could get access to more innovative services and applications."
What do you think, guys? Would you leave all your purchased games, movies, music, books and other stuff behind, just to see "what else is out there on the market?" Obviously, if you are a heavy user, you are more likely to have a lot of stuff on your phone, making it more complicated for you to switch the platform. On the other hand, if you are more of a casual user, changing platforms isn't such an issue, as you don't keep so much content on your mobile device.
source:
Accenture
via:
VentureBeat