Surf's up: Sony SmartBand with Roxy makes its debut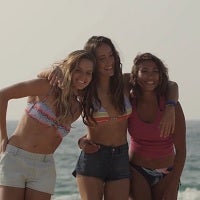 During IFA earlier this year, Sony announced that it would be collaborating with Roxy, a popular sports fashion brand for women. In addition to fashion suitable for snow and surf, Roxy also sells a wide line of gear, from wetsuits to GoPro cameras to skateboards.
To make a wearable that is suitable to such a lifestyle, Sony endeavored to build on its more robust line of SmartWear, a limited edition SmartBand with Roxy.
Designed to work with Sony's Lifelog Android app, the SmartBand with Roxy comes in its own exclusive color and style while retaining its water and dust resistant properties even with an exposed micro USB port. The styling lends itself to the waves.
Functionally, the SmartBand with Roxy will run about a week on a battery charge, and comes equipped with Bluetooth and NFC. The SmartBand can provide vibrating alerts to a number of selected notifications, and it can also serve as a remote for your smartphone's camera. The Lifelog app allows you to gather and track all manner of lifestyle data including monitoring your sleep cycle.
The Sony SmartBand with Roxy will be available in Sony's online store before the month is out.