Supposed iPhone 5 caught on camera
46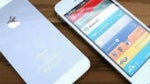 Just because no one can wait the week and a half or so until Apple announces the iPhone 5, we've got more supposed news on the upcoming smartphone. This time, the reported info claims to be actual video of Apple's next big smartphone. Unfortunately, there's little to really prove that the video is genuine.
The video shows quite a good look at the outside of the device, which is said to have been supplied by an anonymous source. There is a good look at the device's new dock connector, and the size differential, which we have theoretically seen before, based on various leaks. The slight twist with this video is that the device gets turned on for a couple seconds at the end.
The only things seen are the Apple boot logo, and the "connect to iTunes" image, because for some reason, although the person in the video was supplied an iPhone 5 by an "anonymous source", said source couldn't also supply a new connector so that the phone would actually be usable. That seems a bit suspect to us. If you're going to go so far as to supply a highly secretive device for a hands-on video like that, why stop at giving a connector cable with it? Maybe Apple would be able to track the device once it's connected to a computer, but it still seems strange.
The real unveiling of the iPhone 5 is expected for September 12th, so we should see the real thing then. We all just have to wait it out.