Support doc is up on Apple's web site for the iPhone daylight savings bug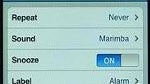 First it was the
Australians
, then it happened to our
European friends
, but now Apple is coming out regarding the situation with the daylight savings time bug that caused havoc for iOS 4.1 users. Instead of hearing their alarm clock ringing on their iPhone at the exact time they set it, they would awaken to the surprise that it actually went off an hour later than it should.
Luckily for US iPhone owners, Apple is already anticipating the same event occurring when daylight savings time is switch on November 7th. Usually, we see some sort of software update being created to address minor issues like this, but rather than doing that, they essentially placed a support doc on their web site.
So what are you supposed to do so that you don't get affected by it? Well, all you have to do is to set the repeat interval to 'Never' and that you'll need to reset these alarms for each day you need them. Thankfully, you won't have to worry about anything once November 7th is behind us seeing that you can go back to your normal routine.
source:
Apple
via
AppleInsider