Suits with iPhones: Apple activations in the enterprise still command 70/30 share over Android in Q2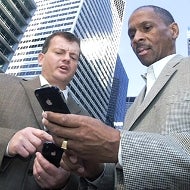 Enterprise services company Good Technology, which focuses on the mobile aspect of things, crunched the numbers for businesses and government entities with at least five devices to manage, and found out that the proliferation of iOS in those sectors continues unabated.
The company only services Android, iOS and Windows Phone activations on corporate networks, as BlackBerries have their own server system, of course, so the numbers are not representative of RIM's devices, which still command a huge deal of presence in the corporate and government worlds.
The Good Tech guys logged 70.8% activations of iOS devices in the enterprise during the April-June period, which was down from the 80% logged in Q1, but still very significant. Apple's CFO Pete Oppenheimer also commented on how fast iOS is being adopted there during the conference call yesterday: "
iPad continues its rapid adoption within the enterprise. We estimate that the number of iPads in the Fortune 500 is more than tripled in the past year.
"