Storm 3 coming in November?
18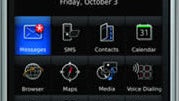 The BlackBerry Storm 3 has been said several times to have been cancelled, but that may not be true as this latest rumor says the device will launch sometime in November.
To say the BlackBerry Storm brand of phones didn't live up to expectations would be an understatement. When the rumors swirled about the third-generation device being cancelled, it wasn't really a huge surprise. This latest rumor however is going completely against the grain of what was originally thought to be true, so what should we believe?
Well for starters, the original rumor of cancellation is entirely false. The device which would have featured the clicking mechanism behind the screen has indeed been shelved. However, a device with a capacitive screen and no clicking sensation is slated for a November release. This device would be branded the Storm 3.
This newest addition to the Storm family would sport the latest version of the BlackBerry software, OS 6. Not much else is known, not even the company that would carry this device. Verizon would seem like the logical choice given they were the exclusive carriers of the first 2 Storm devices.
Would you consider grabbing a Storm 3 if they were to get rid of the SurePress technology? Or are you one of the fans on the clicking screen? Leave us your thoughts and opinions in the comments below.
source:
eWeek