Stop using apps to measure your blood pressure
5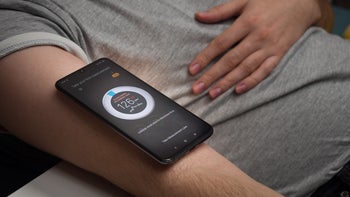 Modern smartphones have a wide array of sensors that make our interaction with them fast and seamless. An ambient light sensor enables your phone to adjust screen brightness automatically; an accelerometer makes YouTube videos go fullscreen when you hold the device sideways; some more advanced sensors like those on the Pixel 4 can even detect a hand waving in front of the phone.
However, a sensor that can't be found in a smartphone is a blood pressure sensor. And that's a serious problem.
Many apps on both the Play Store and the App Store claim they do things that they don't really do - like those ghost detector and lie detector apps, for example. Sure, these apps are clearly there for pranks and amusement, but those bogus blood pressure measurement apps can be outright dangerous.
Can a smartphone measure blood pressure using an app?
Before the procedure, users may have to input their gender, age, height and weight for extra accuracy. Of course, we're using "extra accuracy" ironically since there's no real accuracy to begin with. Scientists from the John Hopkins University School of Medicine
tested extensively
one of the most popular apps of that kind to see if the measurements it gives are accurate. The results, as you might imagine, were not great. For some measurements, the values given were within a reasonable accuracy range only 24% of the time. The conclusion was therefore that the app was "
highly inaccurate
" and that "
four-fifths of individuals with hypertensive BP levels will be falsely reassured that their BP is in the nonhypertensive range
".
Now, for most smartphone users this conclusion is fairly obvious even without all the testing and they'd never trust their phone for blood pressure readings. However, more and more seniors now have smartphones and they're not really familiar with their capabilities and limitations. If it can recognize your face, why couldn't it also measure blood pressure, right? Unfortunately, that same group of people is at the highest risk of blood pressure-related health conditions and in their case, it's better to have no data than false data. It goes without saying that using an app that can falsely claim you're healthy when you're not is a huge no-no.
Interestingly enough, while the technology these apps use today is basically a scam, that might change one day...
Will the future make smartphone blood pressure measuring a reality?
Researchers haven't given up on the idea of using smartphones for healthcare and academics from the University of Toronto think they've managed to find a way to accurately measure blood pressure using a phone. The best thing about it is that their method doesn't require any additional sensors, instead, it uses the phone's front-facing camera.

Until then, it's best if you consult a doctor whenever you feel something's amiss and most importantly, keep your parents and grandparents far from apps that make extravagant claims.