Stolen iPhone records thief's cruise-ship adventures for all to see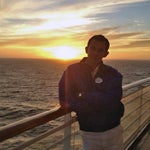 First and foremost, don't steal peoples' stuff. It's just not nice. But if you are the sort of person who would steal and keep say…someone's iPhone… here's a pro-tip for you: Wipe the damned phone! Otherwise the camera roll may share the images with the original owner and they could end up places you'd rather not see them, like say posted to a social networking site.
As you may have guessed, this isn't some hypothetical discussion: Disney cruise passenger Katy McCaffrey had her iPhone stolen by an employee while she was on a Disney Wonder Cruise. The employee's name was apparently Nelson. How does she know? Because she can read his name tag in the photos he continued to snap using her iPhone, and those photos are now available on her Facebook account in a public album labeled "Stolen iPhone Adventures". In it you can see Nelson, his apparent love interest, and the crew of the ship living it up. All that and more was recorded by the thief's own hands.
We imagine the publicity will lead to Disney cruise management acting on poor Ms. McCaffrey's behalf, but we hope the album doesn't disappear to quickly; as far as amusing public embarrassment for thievery (and stupidity) go, this has to take the cake. Check out some more images below, or click on the source link to see the entire album (and some cheeky narration).
source:
Stolen iPhone Adventures
via
The Verge