Steve Wozniak not excited by Apple iPhone 5c
35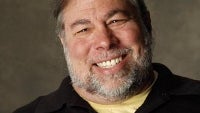 Apple co-founder Steve Wozniak is always sought out after the release of the latest Apple iPhone. The reason is because he gives an honest opinion and since his affinity for smartphones is not boxed in by any favoritism, you're getting a good unbiased answer to any question you pose to him. Besides, the Woz is a living legend and is probably a real cool guy.
So what does The Woz think about the
Apple iPhone 5c
? "
I'm not turned on by the 5C
," he said. He adds that he is more of a high-end guy and loves the Apple iPhone 4s and Apple iPhone 5. To Wozniak, the three new colors of the
Apple iPhone 5s
mean, "
Oh gosh, now I've got to get three new phones to get the three 5S colors
".
Wozniak also spoke out about the new smartwatch era and so far is not impressed. The Apple co-founder wants to have an entire smartphone on his wrist, with a larger display. He might also speak for many when he said that he wants an independent device that doesn't need to be paired to a smartphone via Bluetooth. And as far as Google Glass is concerned, Wozniak gives it a thumbs up. "
I think that has a chance too, and the reason is: I want one. I don't have one because I haven't enough time to be an early tester
."
"I haven't seen [the 5C] too much because it wasn't very attractive to me. You know what, a lot of Apple products, you've got to hold it in your hand and you get a whole different view of it. I've only just seen pictures online. So I'm not a good judge, but nothing grabbed my attention like a lot of Apple products."
-Steve Wozniak
source:
Wired
via
CNET