Steve Jobs patent exhibit lands on 30 giant iPhones in a US Patent Office museum
43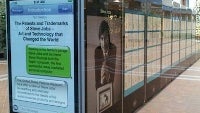 The US Patent and Trademark Office (USPTO) has been one of the most talked about institutions in the last couple of months as the US
Senate passed a new patent reform bill in September
, and its latest exhibit consisting of 30 giant iPhone-like displays honors one of the big innovators of our days - Steve Jobs.
There are
over 300 patent and trademark filings
displayed on the huge screens reminding us of the path of Apple products. One of the most notable ones include the iPod clickwheel for "rotational user inputs," the voicemail manager and others.
"This exhibit commemorates the far-reaching impact of Steve Jobs' entrepreneurship and innovation on our daily lives.His patents and trademarks provide a striking example of the importance intellectual property plays in the global marketplace," Under Secretary of Commerce for Intellectual Property and Director of the USPTO David Kappos said.
You can see the exhibit yourself if you visit USPTO's museum in Alexandria, Virginia. It's free to attend and ends on January 15th, 2012.
Images courtesy of MacRumors.