Steve Jobs knighthood blocked by British PM?
4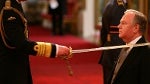 Apple's iconic CEO has been many things –person of the year, CEO of the decade included, but he was nevernamed an honorary knight. In 2009, Steve Jobs was decided worthy andwas close to being honored, but – alas – it was somewhere aroundthen when he refused to speak at a Labour Party conference, whichcaused British Prime Minister Gordon Brown to change his mind and block theknighthood. The information, quoted by The Telegraph, comes from aformer senior Labour MP.
"Apple has been the only major globalcompany to create stunning consumer products because it has alwaystaken design as the key component of everything it has produced,"Brown said at the time. By some lucky coincidence it is theLondon-born Jonathan Ive heading the design department over at Cupertino. And while Brown's statement acknowledges Jobs "services to technology", it doesn't make upfor the fact that former Microsoft CEO "Sir" Bill Gates from Microsoftreceived knighthood. Well, with the iPad 2 expected to be unveiled tomorrow, Apple's CEO might have one more chance to prove the BritishPM wrong.
source: The Telegraph