Steve Ballmer will be speaking at Microsoft's press event during MWC?
This article contains unofficial information.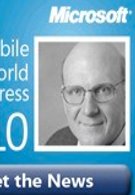 The faith of Microsoft may lie on the shoulders of one man – whose boisterous voice can really echo a room to get people to listen up. There's plenty of Windows Mobile news that's been buzzing around that may ultimately point to a showdown at MWC. There is still no definite indication as what to expect from Microsoft – or who will even usher in a brand new beginning for the Redmond based company. From the looks of it, Microsoft's own Steve Ballmer may speak at Microsoft's press conference at MWC 2010 – now that's based on a recent banner ad that is running on some of Microsoft's pages. It'd be a bit uncanny to see a calm and serene Steve Ballmer take the lead in what's alleged to be a groundbreaking movement in the mobile community. The man in charge will hopefully lend his vociferous public speaking skills and shed light on some of the biggest rumors to grace Windows Mobile in a long time – these include Project Pink, Zune phones, Windows Mobile 7, and everything else under the sun Microsoft. You know it has to be something big when Steve Ballmer takes the helm.
via
msmobiles