SpyderGrip gives you true freedom to listen to music on your device while you are active
23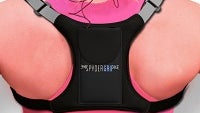 If you like to listen to music while working out, snowboarding, jogging or whatever, but do not care for the arm-mounted accessories that are on the market now, SpyderGrip fixes the problem.
This is a neat idea by Ryan Arriaga, a northern California native, veteran and software developer. As you can see from the video below, he works out and lives a fairly active lifestyle. The arm strap accessories were definitely crimping on his style.
Bluetooth headphones are not always ideal for workouts or other high-energy activities (they are costly to replace too), so for traditional ear-buds or headphones, keeping the wire out of the way is important if you want to keep the beats going while you are doing your thing. Ryan decided to do something about it and set out to create SpyderGrip. It is a sleek design that fits nicely on your back, out of the way of anything to throw you off balance.
The SpyderGrip Kickstarter campaign is underway with an easily attainable goal of just $5,000 and in the first few hours it is already more than a third of the way to making it. $25 for the early adopters is a reasonable starting point, and prices rise modestly to $35. Given that some armbands cost as much as $50 or more, the SpyderGrip is positioned to put your workout hassles behind you, literally.
Check the source link below to support the campaign and get your SpyderGrip by Christmas.
source:
SpyderGrip
(Kickstarter)