Sprint's HTC EVO 3D to launch with preloaded 3D content
28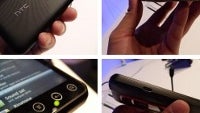 Sprint's upcoming
HTC EVO 3D
is one of the most looked upon smartphone launches of this summer, but while it has the dual-core power and 4G connectivity to match the latest flagships, it aims to do more by bringing 3D movies to your pockets. While currently, 3D seems to be more of a gimmick rather than a real advantage, Sprint is offering the phone with some pre-loaded 3D content which might just lure you into a purchase.
First of all,
watching movies
should be a great experience on the 4.3-inch qHD screen of the EVO 3D, but you'll be tempted to watch even more of them with the pre-loaded rental service HTC Watch. For a limited time, the HTC EVO 3D will ship with the movie
"The Green Hornet 3D"
pre-loaded, but you could also store up to five movies in HTC's cloud service.
The
Blockbuster On Demand application
will also come pre-installed on the handset, giving you even wider access to movies. While the choice of 3D films is definitely not mind blowing, some, like
"Drive Angry""
, will be available with the launch of the EVO 3D.
Gameloft has also stepped in to provide some
3D gaming
with the pre-loaded demo of the 3D version of Ultimate Spider-Man: Total Mayhem. In addition, the Gameloft Storefront application will come preinstalled.
Finally, you'll be able to upload self-made
3D footage
to YouTube, while the QIK application will help you stream videos enhanced with support for the third dimension. While that's certainly a practical step showing just how you can use 3D, will it be enough to convince you that 3D is more than just an impractical gimmick? Feel free to voice your opinion in the comments below.
source:
Sprint