Sprint to end two-year contracts inside retail stores on August 26th
16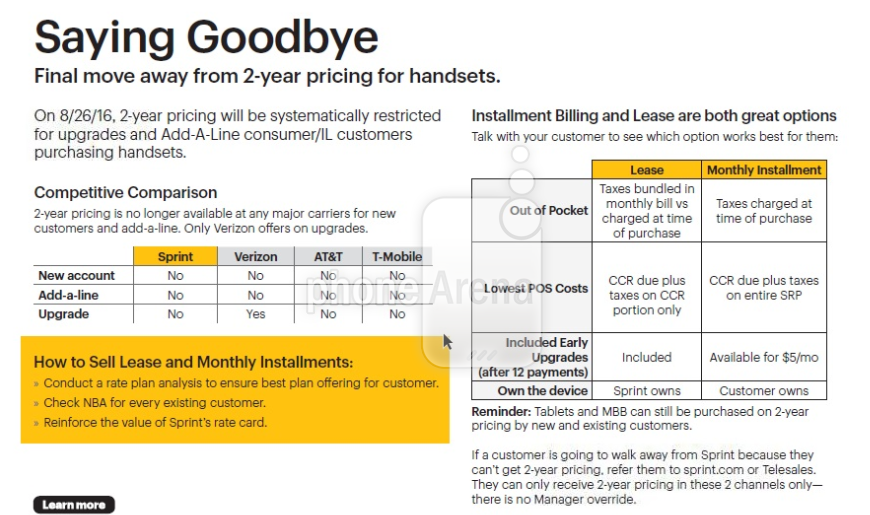 Leaked Sprint memo reveals that Sprint retail stores will no longer offer two-year contracts starting on August 26th
One of our loyal PhoneArena readers has sent us a leaked memo meant for Sprint reps. According to the document, on August 26th Sprint is ending two-year contracts as an option for new customers and current subscribers upgrading or adding a new line. Instead, Sprint recommends that reps try to get customers to sign up for leasing or monthly installment plans.
In its memo, Sprint points out that two-year contracts are also no longer available from the competition except for Verizon. Big Red still offers the two-year pacts for upgrades. The nation's fourth largest carrier also included a chart that shows the difference between leasing and paying monthly for a device. With the former, Sprint is still the owner of the phone, but early upgrades are included and allowed after 12-monthly payments. With the installment plans, the customer owns the phone but has to pay $5 a month extra for the right to exercise an early upgrade.
The end of two-year contracts appears to be related to Sprint's retail stores only. In the memo, the carrier writes that if a customer is going to walk away from Sprint because of the lack of a two-year contract, reps should direct the customer to Sprint.com or Telesales. The two-year pricing is available from those channels.
If this memo is legit, Sprint customers who like to conduct their transactions in the retail store will have until August 25th, or a week from this coming Thursday, to put their John Hancock on the dotted line of a Sprint two-year contract. The memo states that this is the final goodbye to two-year contracts for Sprint customers shoppin. Perhaps this time the carrier really means it.
Thanks for the tip!