Sprint is rumored to be interested in partnership with Dish Network
11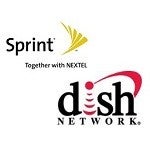 According to a couple people familiar with the potential deal, Sprint and Dish would gain access to each company's spectrum and share in revenue from the arrangement.
Dish would immediately gain access to Sprint's network, allowing the satellite TV provider to offer wireless service to customers. Sprint would get access to mobile spectrum Dish owns, but is not using. Dish is awaiting a decision from the government on the use of those airwaves, which may be provided next week.
Such an arrangement would benefit both companies, as it puts Dish in the wireless business right away, enabling the company to offer service as part of a package to its 14 million TV customers. It helps Sprint by giving it access to more spectrum, of which, Sprint does not own a lot of compared to the bigger players.
Softbank would have a hand in approving this deal as well. However, this arrangement would produce revenue for Sprint via both avenues, through fees paid by Dish, and by expanding coverage for Sprint's own customers. Dish Network CEO Joe Clayton offered no details, simply saying, "We speak with everybody."
source:
Bloomberg