Sprint CEO makes it sound like the carrier will be on life support if T-Mobile deal is scuttled
7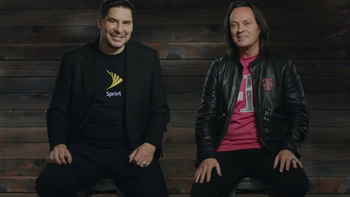 In the early days following
the announcement of T-Mobile's $26.5 billion merger with Sprint
, the two carriers tried to sell the public on the idea that the deal was necessary for the U.S. to maintain leadership in 5G. The deal awaits approval from regulators including the FCC, which was forced to halt its examination of the transaction when the federal government shutdown starting in December.
Those in the know say that the odds of the deal closing are basically a coin flip, and Wall Street traders have priced the shares of T-Mobile and Sprint to reflect only a 30% chance that the deal will go through. And now,
according to KCUR
, Sprint CEO Marcelo Claure is trying to sell regulators and the public on the idea that Sprint might have problems competing if the deal doesn't go through.
Claure says that because Sprint doesn't generate positive cash flow, if the merger is blocked by regulators, the company will have to go hat in hand to the bond market and the banks. The executive states that Sprint will have to raise the $20-25 billion it will cost to build out a 5G network. And if the deal doesn't go through and money can't be raised, Claure says that Sprint won't be able to offer wireless in rural areas and will only be able to construct a limited 5G network.
Some opponents of the T-Mobile-Sprint merger say that the deal will create a duopoly. But as Claure points out, the wireless industry in the U.S. is already a duopoly with Verizon and AT&T controlling 93% of the market. While some who oppose the deal point out that it will reduce the number of major U.S. carriers from four to three, if Sprint can't compete, the bottom line is the same thing.
New Street Research analysts say that Sprint is "barely on track to generate enough EBITDA (Earnings Before Interest, Taxes, Depreciation and Amortization) to cover network investment and interest expense." Sprint has nearly $40 billion in debt and if the wireless provider isn't merged into T-Mobile, those IOUs could be a huge albatross around its neck.