Sprint Samsung M300 clamshell phone
5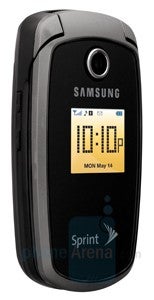 M300
* Update 13 April 07: It seems that the M300 will just look like the E790, but lack its cool features: it will have VGA camera only, no EV-DO ... We are still not sure about the A437 features

* Update 11 Apr 07: We received information that the

SGH-A437

that AT&T Cingular is going to carry in future looks the same. As it is GSM, we guess it will be slightly personalized, America version of the E790 (see below). *End Update
We got the first leaked photo of the
Samsung SPH-M300
CDMA phone for Sprint PCS. This Vision Camera Clamshell will come as the replacement of the
A640
, which also has OLED external display that conceals when inactive, delivering a shiny mirror-like surface.
The M300 is the CDMA version of the
E790
and we guess it will have similar specifications, including 2-megapixel camera, Stereo Bluetooth and microSD slot.
Targeted for 14 May, 2007 it will initially launch in Dark Silver, but a second color version in Red will follow in July.
Thanks tuolumne!