Spotlight: SafeCam for Android hides your private photos in a secure encrypted gallery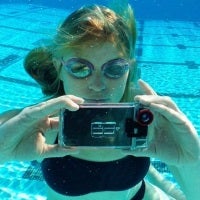 You know the scenario all too well. You want to show someone a picture so you hand them your smartphone, and almost impulsively, they begin scrolling through all your photos. Hey, what is this, the city gallery? You better do something to keep those photos to yourself, and one idea we can recommend is installing an application like SafeCam.
Available on Android, it lets one hide any photos they consider "private", "secret", or otherwise unfit for public consumption inside a safe gallery. This personal space can be locked down with a password, hidden, and encrypted so only you can access it. To facilitate that, SafeCam's camera app captures images and immediately stores them inside the secure zone. Once there, personal photos and videos can be put inside safe albums encrypted with an AES algorithm for maximum privacy.
Of course, you are also free to export any content from your regular gallery into the secure one, or share images from the private space via e-mail and social apps. There's also an automatic backup and recovery system in place, which also gives SafeCam the ability to fully recover your previous media upon reinstalling the app. It works on the internal storage and external SD cards.

In case you forget the password, there's a restore mechanism in place. Passwords aren't limited to digits only, so you have total freedom in fashioning your own.

SafeCam is free to use, although it has some in-app purchases to help with monetization.