Spotlight: Iris lets you walk the street and use apps without bumping into human and non-human objects
10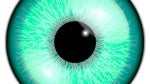 Bumping into people on the street while staring down your smartphone's screen is a mishap as old as mobile phones themselves. Mobile technology has advanced unfathomably since cellphones first shrank to fit our hands and pockets, but there's still little one can do to remedy such accidents, save for keeping their eyes peeled. Yeah, that's common sense, but as tabloid headlines prove every day, common sense is not so common after all!
Anyway, here's something else one can consider - an app by the name of Iris. What it does is overlaying what your smartphone's camera sees on top of the app you're currently using. Not only you can keep a watchful eye on your surroundings while walking around immersed in your app business, you also get the surrealistically cool benefit of the world literally becoming your Android skin!
Iris supplements this essential concept with some additional features. Camera Barrier lets you choose how much of your screen shows the camera feed. Notification & Widget keeps Iris' settings a single swipe away in your notification area. Pop Out Window and Filters are Pro version-exclusive functionalities that let you switch to a pop-out camera window, or use night, solar, mono and aqua filters to increase visibility in different walking conditions.
Iris is a free download with optional in-app purchases.