Speedtest data shows that T-Mobile has the fastest 4G LTE pipeline in the nation
66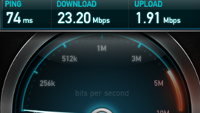 The popular Ookla Speedtest app is used by many smartphone owners to check the data speed on their current network. T-Mobile has sifted through real-life data created from consumers' use of the app. Based on this data, which comes from more than a million customers running millions of tests, T-Mobile has the fastest 4G LTE network in the nation.
According to the results from the app, T-Mobile provides the fastest average data speeds over 4G LTE in the U.S. at 17.8 Mbps. The data also revealed that T-Mobile's speeds are more consistent than the competition. That's because the company has been able to offer 10 + 10MHz service in major markets like New York City, Miami, Chicago and San Francisco. In those markets, T-Mobile's 4G LTE service has been measured as high as 72Mbps for downloads, and 27Mbps for uploads. At that speed, a 90 minute HD movie can be downloaded in 5 and a half minutes, and an entire music album will take only 13 seconds to download over the carrier's network.
"Finally we agree with AT&T on something: Faster is better. I warned the competition this day would come, and millions of speed tests from real people using their own phones prove it: T-Mobile's nationwide 4G LTE network is the fastest network in the nation -- bar none."
-John Legere, CEO, T-Mobile
"
T-Mobile is laser-focused on giving customers the best network experience possible. First we deployed nationwide LTE at breakneck speed, covering more than 200 million people in just six months. Now, we're adding more and more spectrum to this footprint and have commenced the launch of our Wideband LTE service, doubling already best-in-class speeds."
-Neville Ray, CTO, T-Mobile
T-Mobile just turned on its first 20 + 20MHz LTE network in North Dallas as T-Mobile Wideband LTE launched. The service can provide download speeds as high as 150Mbps and a download speed of 147Mbps and an upload speed of 40Mbps have been measured in the area. T-Mobile says currently the
Samsung Galaxy Note 3
,
LG G2
and the
Nexus 5
will support the faster data speeds as the Wideband LTE is rolled out nationally. Three more Wideband enabled devices will soon be available from the carrier, namely the
LG G Flex
, the
Samsung Galaxy Tab 3 (7.0)
tablet, and
the recently announced Sony Xperia Z1S
which is a T-Mobile exclusive.
source: T-Mobile