Speed test showdown: Verizon Galaxy Nexus vs Motorola DROID RAZR vs HTC Rezound
57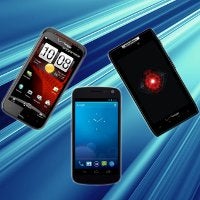 Initially, when we were first exposed to Verizon's 4G LTE network, everyone seemed to be astounded by its blazingly fast data speeds – knocking off the socks literally from most people! But as with everything that we grow fond of, we tend to sometimes forget to be grateful with our constant evolving technology. Once considered to be a rarity amongst smartphones, Verizon has quickly spawned a wide array of smartphone packing support for its lightning fast network.
And with the
arrival of the Samsung Galaxy Nexus
, 4G LTE connectivity has seemingly become a standard part of a handset's arsenal – so in all seriousness, it has become all too casual at this point. Nevertheless, now that we've gotten plenty of time with Verizon's latest beauty, we decided to check how it compares against the competition in terms of raw data speed.
As you're probably aware by now, the one glaring aspect about the
Samsung Galaxy Nexus
in our review is its
weak signal strength
. Specifically, it has a knack to be notorious for dropping 4G LTE connectivity in almost every situation, and even worse, it can lose its connection entirely. Well, we compared it simultaneously against the
Motorola DROID RAZR
and the
HTC Rezound
. Interestingly enough, our concerns are seemingly confirmed as the Samsung Galaxy Nexus produces a signal strength of
-108 dBm
– with the RAZR and Rezound at
-85 dBm
and
-82 dBm
respectively. Boast a difference of 26 against the HTC Rezound, it's pretty evident that the Galaxy Nexus is working hard to maintain that connection – and it shows as the handset clings to a single bar, whereas the Rezound is at a decent three.
Furthermore, we decided to do an impromptu speed test against the three highly prized smartphones using
Ookala's Speed Test
application. And surely enough, the results are absolutely telling and parallel our assumptions. Even though we tested all three devices in the same spot indoors, it does show how each performs under the same conditions. From the looks of it all, the HTC Rezound takes the gold by putting up average results of
8.44 Mbit/s down and 3.51 Mbit/s up
. Taking in the silver is the Motorola DROID RAZR, as it put up average speeds of
7.35 Mbit/s down and 3.25 Mbit/s up
. Unfortunately, the Samsung Galaxy Nexus shamelessly scoops the bronze medal as it establishes some poor speeds, which include
5.65 Mbit/s down and 2.43 Mbit/s
up on the average.
Running this quick test, it's very transparent that all 4G LTE smartphones aren't made the same – and it shows why we're frustrated by the Samsung Galaxy Nexus. Over the last two days, though, it's holding onto a connection much better than when the device launched – yet, it's still occurring. As it continues to try dearly to hold onto that connection, it's probably impacting battery life as well. Thankfully, there's a light at the end of the tunnel for the flagship smartphone, seeing that Verizon is vocal about
producing a fix to correct the handset's weak signal strength
. Of course, it really throws a pickle at everyone's direction because it makes you wonder how Big Red's stringent quality assurance process allowed the device to pass. Nonetheless, we're hoping it all gets squared away in the end.