Specifications for the Samsung ATIV Odyssey Windows Phone for Verizon leak
16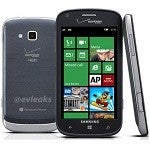 As we expected, the Samsung ATIV Odyssey will be not be a premium level handset, in fact, it positions itself below the mid-range Nokia Lumia 822.
We were hoping it might share at least a little bit with the ATIV S in terms of form factor and specifications, those hopes were subdued when the image of the
Samsung ATIV Odyssey leaked a couple months ago
. From those images alone we could tell that would not be the case. We could see that microSD support would be present. Unfortunately, we had no dimensions for the hardware, we had no confirmation about the size of the display, or specs for the camera.
Here is how it looks like it is going to break out, the
Samsung ATIV Odyssey
will of course support LTE, but it will also be a global ready smartphone. The handset will be 4.82-inches high, 2.51-inches wide and 0.43-inches thick. With a slightly larger battery at 2,100mAh, and a smaller 4-inch WVGA Super AMOLED screen, the ATIV Odyssey will weigh less than its counterparts at 4.41 ounces.
The main camera is 5MP, will be able to shoot 1080p video and the front facing camera is 1.2MP which will be able to record 720p video. Power is managed by the same 1.5GHz dual core Qualcomm Snapdragon processor found in the other Windows Phone 8 devices sold in the US. On board there is 1GB of RAM and 8GB of storage, plus the aforementioned microSD expansion. Samsung will have some of its own apps on the Odyssey, Now, Mini Diary and Photo Editor. NFC is supported, but wireless charging will not be available.
So there you have it, this handset was expected to make its debut with Big Red in December, but as we can plainly see that time has come and gone. We still do not know of a release date and pricing has not been confirmed either. Since the
Nokia Lumia 822
is currently available for free on Verizon with a contract, and the
Windows Phone 8X by HTC
is now $99.99, if or when the ATIV Odyssey makes it on board, it will certainly be available at no cost with a contract.
We will keep an eye out for the Samsung ATIV Odyssey at CES 2013 and bring you a hands-on when we spot it.
source:
WPCentral