Space gray most popular Apple iPhone 5s color; blue tops Apple iPhone 5c color options
10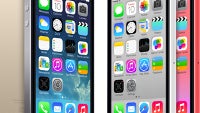 The latest data from Consumer Intelligence Research Partners shows that space gray is now the most popular color choice for those buying the
Apple iPhone 5s
. 43% of those iPhone 5s buyers surveyed a month after the launch of the model, had purchased the phone dressed in space gray. That was followed by the 30% who purchased the phone in silver and the 27% who purchased the gold model.
These stats could be a little skewed by the fact that the gold iPhone 5s was in so much demand when the new full-featured version of Apple's iconic smartphone launched, that the color was hard to find.
Apple has since increased production
of its gold model by 33%. We can't help but wonder what these numbers would look like had Apple had enough supply of the gold iPhone 5s to meet demand immediately after the launch of the device. Besides lowering the percentage of gold iPhone 5s units sold, it also increased the percentage of the other two colors as buyers ended up settling for whatever color was available.
As far as the
Apple iPhone 5c
is concerned, the most popular color based on 400 people surveyed a month after the launch, is blue. But the 27% that bought the blue model just edged the 25% that bought the white variant of the mid-range iPhone. Yellow apparently is not a favorite color of iPhone buyers as only 7% of those surveyed had purchased the iPhone 5c in that color.
The data was also broken down by gender. From those charts, it is discovered that when it comes to the Apple iPhone 5s, woman favor silver while men prefer space gray. No surprise that women adore the pink iPhone 5c while men go for the blue and white.
"iPhone 5S and 5C colors seem to confirm some traditional gender biases. In the iPhone 5C, men prefer the neutral white, and the Space Gray in the iPhone 5S. In contrast, women prefer lighter silver 5S and the brighter iPhone 5C colors. Interestingly, no one, including the women in the survey, appears to want the Yellow iPhone 5C very much."
-Mike Levin, CIRP
source: CIRP via
MacRumors