South Korean carriers take up to 70% off smartphones to lock customers into contracts
3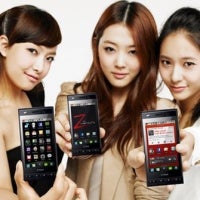 On the Galaxy S5's official globallaunch day, a report by beSUCCESS shed more light on the governmentsanctions that made South Korean carriers sell the flagshipsmartphone ahead of Samsung's schedule. The media describes Samsung'shomeland as "one of the most technologically advanced markets inthe world" with the highest number of smartphone owners. There'shardly any more room for growth inside the highly saturated market,which is pushing the three domestic telecoms into fierce competition.
To whisk customers away from eachother, SK Telecom, KT Corp, and LG U+ resort to large smartphonesubsidies - up to 70% off the retail price, together with a contract.In their growth pursuits, the carriers breach legal regulations thatplace the subsidy barrier at a maximum of $260 (270,000 won) off, andundercut prices, leading to government intervention.
In the most recent case, each carrierwas banned from selling smartphones for a 45-day period between Marchand May - a measure which rendered them unable to sell the SamsungGalaxy S5 after its official April 11 launch date.
Previously, the Korea CommunicationCommission (KCC) fined KT Corp and imposed a 7 day businesssuspension last July, and last December, all three carriers werefined a combined amount of $102 million (106.4 billion won).
The KCC would rather have South Korean carriers decrease the prices of their mobile usage plans.
This pricing model is borrowed bycarriers from the United States, although the country's majorcarriers have been behaving themselves in terms of pricing. The lasttime the Federal Communications Burreau fined a US carrier was lastNovember, which saw Conexions Wireless, I-wireless, and True Wirelessfined about $33 million altogether for breaching rules of thegovernment's Lifeline program. There have been no recent businesssuspensions.
While increased subsidy probably lookslike a great thing from consumer point of view, the KCC would ratherhave the carriers decrease the prices of their mobile usage plans,which would be more beneficial to both the clients and the industry.The penalties are said to be temporary solitions until the regulatoryorgan implements a long-term solution.
source: beSUCCESS