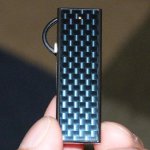 Last year, we had the opportunity of
checking out the Sound ID 510
, a Bluetooth device for the iPhone that featured a tantalizing mix of common Bluetooth functionality splashed with some unconventional ones. Well folks, it has been more than a year later, and we're finally once again checking out the company's latest offering in the form of the
Sound ID SIX
. Priced at
$129.99
, which is positioned as a premium offering, it packs all of the previous version's lovable qualities, but it's now compatible to work with the iPhone, BlackBerry smartphones, and Android devices – while still maintaining its rich and unconventional set of features.
Right off the bat, we dig the
updated design
of the Sound ID SIX, as it radiates blindingly with a chic look that makes it seem more like a piece of jewelry – as opposed to a high-tech gadget. In fact, its holographic surface catches our eyes, but it's actually referred to as the
Clear Carbon Smart Touch Surface
. Similar to the previous model, this area allows us to execute swiping gestures to quickly increase/decrease its volume. Despite its all plastic construction, it's still one sturdy feeling headset that takes pride in its desirable looks. As for the earpiece, it's yet again very menacing with its sharp looking spout – though, it does well to funnel audio into one specific area. Still, it tends to feel a bit irritating after some time on.
Besides working just like any other Bluetooth headset out there in the market, there is the accompanying
Sound ID EarPrint app
that unlocks most of the headset's cool features. For starters, we like how it offers a
PassThru Mode
, which seemingly makes it appear as though we gain super human hearing. Actually, it
amplifies
the surrounding environment to give us clear and distinctive audio tones to make even someone typing away on a keyboard sound prominent. Additionally, we like how we're presented with a personalized way to adjust its audio quality, SMS to Speech, battery life indicator, and a Find My Headset feature.
Yes, some might still complain about its pricing, but it's not every day that we find a headset that amplifies our own hearing – or the fact that we have an adjustable quality setting. Combining its wealthy set of features with its fashionable appearance, it's sure to turn plenty of heads – plus, it's now compatible with a host of devices right from the start!
source:
Sound ID