Sorcery! is a beautiful, engaging, fantasy-filled gamebook, and here's our review
2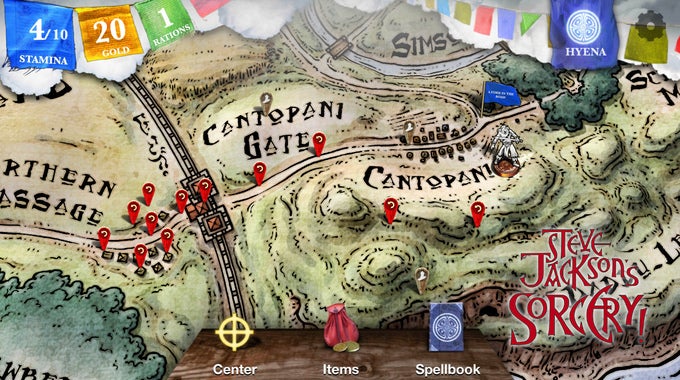 | | |
| --- | --- |
| Developer: inkle Ltd | Download: Android, iOS |
| Genre: Role Playing, Gamebook | Price: $4.99 |
Those who had the pleasure of growing up in the 80s or 90s – you know, when iPhones, Twitter, and high-speed broadband didn't yet exist – are probably familiar with what a gamebook is. Or should have at least heard of these rather unusual and highly engaging works of literature. The Sorcery! series, which made its debut in 1983, is among the many memorable examples of this once-popular genre, and today, some 30 years later, the epic adventure, with its twists and turns, can be experienced in digital form.
Sorcery! for iOS and Android is a four-part adventure set in a fictional world of magic and mystery. Instead of cutting-edge 3D graphics and realistic physic effects, the game aims to engage readers with its masterfully written narrative, leaving the task of visualizing the action to their imagination. Not that Sorcery! is visually unattractive. Quite the contrary – it is filled with detailed, hand-drawn illustrations of characters, monsters, spells, and locations. Speaking of visuals, the text font is sufficiently large and easy to read, set against a contrasting textured background. The sound effects can be described as subtle and non-distracting, aiding your fantasy in building the image of a busy town road or a creepy cave in your mind. Overall, Sorcery! is an interactive book first and a game second.
The beauty of gamebooks is that you get to choose the protagonist's fate – whether they fight a monster with strength and magic or flee out of fear for their life, whether they venture through the thick and dangerous forest or visit a nearby-town, whether or not they scavenge that creepy cave in search of treasure or adventure. In Sorcery!, you often have to pick the hero's next move and planning each move carefully is of importance. We have to admit that we got stuck a couple of times, fooled into traps because of our own curiosity, which eventually led to our hero's demise. But worry not. The game doesn't mind if you go a few steps back and replay a given section. Even fights can be replayed in case the player dies or takes too much damage.
Speaking of which, the fighting system in Sorcery! is quite unorthodox and directly related to the narrative. In other words, you don't just blindly throw jabs at thieves and monsters. Instead, you have to read the clues that the story is giving you in order to pick the strength of your attack optimally. If your attack is stronger than your opponent's, the enemy takes damage, and in the opposite case, your stamina decreases.
Magic is another key gameplay element in Sorcery!, hence the name, we presume. Spells can be used to fend off creatures, to escape traps, to defend against potential dangers, and much more. The mechanics of spellcasting, however, leave room for improvement. There is a total of 48 available spells, and to cast them, the player must input a three-letter code. In cases when the casting of a magic spell was required, we often had to go back to our spellbook in effort to find the right spell code, and browsing through the pages of the said book is a tad frustrating. Furthermore, there is no easy, one-step way of switching back and forth between the spellbook and the spell casting screen. Having one would have noticeably sped up the gameplay.
In conclusion, Sorcery! is a well-made digital adaptation of a well-written gamebook. Once you start playing (or reading, if you will), it is hard to put it down, and when you're done with the adventure, you'll surely be tempted to start over, choosing a totally different game path for your hero. Sure, at $5, the app doesn't come cheap, but if you're a fan of fantasy stories or if you like gamebooks, chances are you'll be quite happy with your purchase.
Pros
You choose your own adventure
Well-written and engaging storyline
Beautiful illustrations
Cons
A bit expensive for a mobile app
Frustrating spellcasting mechanics
| | |
| --- | --- |
| Developer: inkle Ltd | Download: Android, iOS |
| Genre: Role Playing, Gamebook | Price: $4.99 |