Sony Xperia Z2 climbs to the top of DxOMark's best smartphone camera ranking
96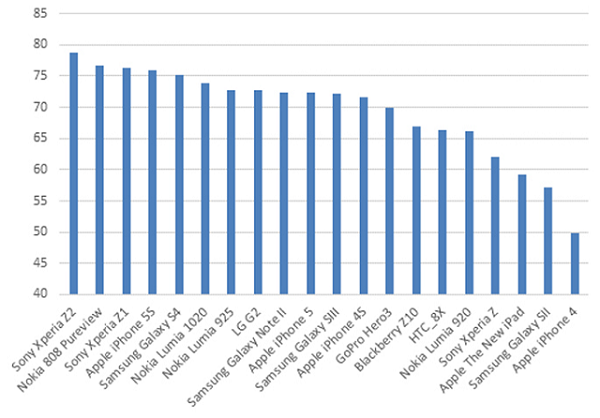 With the
HTC One M8
and the
Samsung Galaxy S5
already out on the market, winning hearts, it feels like all eyes are on the Sony Xperia Z2, expected to join the fray shortly.
But not everybody is as intent on waiting it out, and French DxOMark, known for its camera reviews, is case in point. The folks behind it have already apparently gotten some hands-on time with the Xperia Z2, and its 20.7-megapixel G Lens snapper in particular, and have arrived at a pretty generous relative score, which actually puts the Z2 on top of its mobile cameras chart. With 79 points (averaged between stills and video), the Z2 landed a final score that surpasses that of even the evergreen camera on the original Nokia PureView -- the Nokia 808. Not bad.
Of course, do keep in mind that DxOMark hasn't gotten around to reviewing the cameras on the HTC One M8 and the Galaxy S5 just yet, so there's certainly could be a quick upset. What's more, we're expecting LG to come out with its new G3 flagship sometime in the next few months, and the company has sure earned itself some credit in the camera department. We'll live, and we'll see, as they say.