Sony Xperia XZ selfie camera demo: 5-axis video stabilization
10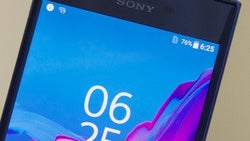 There are two ways to produce smooth, steady video using nothing but a smartphone. Option one is to keep the device as steady as it is humanly possible. Option two is to pick a phone equipped with top-notch image stabilization. Of course, most of us don't have the hands of a brain surgeon, which is why today's high-end phones all feature some kind of image stabilizing feature built into their cameras.
The Sony Xperia XZ is no exception. In fact, it is the phone on which Sony's new 5-axis image stabilizing algorithm is making its debut. There's no optical stabilizing involved. All the shakiness is removed in software, which, as a matter of fact, is an approach that has its advantages. One of them is that the software can be applied on the front camera of the Xperia XZ – something we were curious to try out.
In the video below, you'll see sample footage taken with the XZ's front-facing camera. All in all, the stabilization works pretty well, and while the results aren't flawless, we'd say that we're content with the image quality, given the non-optimal conditions at the venue. Do you agree? Let us know in the comments!