Hands-on with the Bronze Pink Sony Xperia XZ Premium
16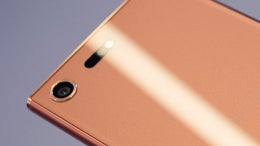 Earlier this week,
Sony announced a Bronze Pink variant
of the
Xperia XZ Premium
- the company's latest flagship smartphone. Today, at a Sony event, we had the chance to go hands-on with the Bronze Pink XZ Premium, and we're more than happy to share photos of this particular model with you.
Now, the Bronze Pink Xperia XZ Premium certainly looks interesting, but we wouldn't say that this is a color for everyone. Nevertheless, it can be a great choice for customers who may not find the other two color versions of the phone (black and chrome) too appealing.
Sony says that the Bronze Pink Xperia XZ Premium will be available only in select markets. It looks like the US is included here, as the new color variant is already showcased on the official Sony Mobile US website, alongside the black and chrome models.
Unfortunately, we still don't have an exact release date for the Xperia XZ Premium (regardless of color). However, the handset should hit shelves in the coming months - we'll be here to let you know when it happens.