Sony Xperia Tablet Z vs Apple iPad: first look
19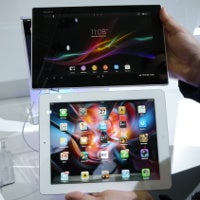 The
Sony Xperia Tablet Z
is easily one of the most impressive gadgets we saw at this year's Mobile World Congress. The extremely well built, slim Sony Tablet Z is a beauty to behold but it is also very practical featuring the same level of dust and water resistance as the Sony Xperia Z - IP 57. That basically means you can easily go read a book or watch a movie in say the bathtub without worrying the water would damage the tablet.
Naturally, the Xperia Tablet Z will get compared to the gadget that created the tablet category, the 9.7-inch Apple iPad. We put the two alongside to better help you understand the difference in size - the 10.1-inch Tablet Z has a much more elongated form with a 16:10 aspect ratio, unlike the 4:3 ratio of the iPad.
The Tablet Z is also noticeably lighter and thinner than Apple's iPad. There is more than a 100g (nearly a quarter of a pound) difference between the two, and your hands will thank you for getting a lighter device. It is just mind boggling how far Sony has gone with the design of its Tablet Z and how it managed to retain the beautiful glass aesthetics in a sleek yet water-resistant package. This is definitely one of the best Sony designs we've seen in quite a while.
Both tablets have brilliant displays, but Apple still wins in the display department with an almost perfectly calibrated screen offering an astounding amount of detail. Sony is a close runner-up though, as its display has a resolution of 1,920 x 1,200 pixels, almost as much as the one on the iPad.
Both tablets ran very smoothly, with no visible lag, just as you'd expect from a modern tablet. Which one should you choose, thouhg? Well, this is a hard call and the answer depends a lot on your preference for ecosystem with Android being the open option and Apple the closed, tightly controlled platform. It is also a lot about your appreciation for the Tablet Z's water resistance, a very important feature in our opinion. On their own both are extremely well executed, take a look below.