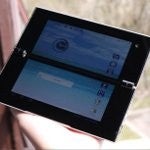 Flying under the radar, the
Sony Tablet P
recently landed at our front door causing a slight ruckus with its unusual tablet form factor. Right now, this "
foldable touch screen tablet
," as Sony so carefully mentions on its web site, is available for purchase through AT&T for
$399.99
with a 2-year contract – or merely
$549.99
outright. Come to think of it, the Sony Tablet P doesn't bring to the table anything particularly ground breaking in the specs department, but it's still nonetheless a curious one thanks in part to its untraditional
clamshell design
.
Packaged tightly in a very rectangular box that's flaunting the customary AT&T color scheme, we're greeted with two images of the tablet in question on the front and back – with some featured tidbit information plastered in the rear as well. Opening it, we're first greeted to the Quick Start Guide, and under that, the Sony Tablet P itself. For the price, we're not shocked with the skimp inclusions, which consist of its wall charger and tertiary documentation. However, we're a bit perplexed as to why they decided to
NOT
include a microUSB cable – so yeah, you'll need to supply one yourself sadly. Of all the prepackaged items, we're already questioning the tablet's battery life, especially when it's carrying along a
3,050 mAh
one.
Revisiting the Sony Tablet P a second time
, with the first one being at CES back in January, one of the first things to come in mind is that it's a cute looking fella – especially when it's in closed form. In fact, it reminds us as some sort of modernistic looking clutch bag ready for a formal attired event. Looking around however, it's quite evident that Sony wanted to go for yet another minimalistic approach with its design. Opening the entire thing, we're presented with its 2, count them TWO,
5.5-inch TruBlack LCD touch screen panels
with each bearing a resolution of
1024 x 480
. Yeah, they look pretty sharp so far, but we're simply detracted most by the 1-inch bezels surrounding both sides of the displays, which actually ups the entire tablet's size.
As for specs, it's barely going to raise a few eyes since it features hardware that's typical of first-generation Honeycomb slates. Specifically, we find a dual-core NVIDIA Tegra 2 processor, 1GB RAM, preloaded 2GB microSD card, 5-megapixel rear camera, VGA front-facing camera, Bluetooth
2.1
with EDR, 802.11 b/g/n Wi-Fi, and "4G" HSPA+ connectivity. Seeing the same customized interface found on Sony's other tablet, the aptly named Tablet S, it's anyone's guess when this will be getting its dose of Ice Cream Sandwich. However, it's worth noting that it's a
PlayStation certified device
– much like the Sony Tablet S and XPERIA Play 4G from before. Expect our in-depth review soon!