Sony Ericsson Xperia arc Hands-on
9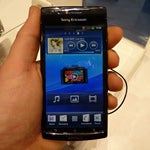 Sony Ericsson had only one major announcement for us during the CES 2011. The
Sony Ericsson Arc
has been previously known as the
X12 or Anzu
. All of its specs leaked a few months ago, so there was no surprises as to what the features will be.
The name Arc comes from the
slightly curved design
. If you ask us, it really does not make almost any difference ergonomically - Sony Ericsson just need a good marketing name and something to distinguish it in the sea of phones. It is not like we do not like the design – it is very clean with excellent in-hand feel. What is really strange is the very low weight of only 4.13 oz (117g), given it has 4.2" display. The low weight is definitely great, but it also brings somewhat cheap feel when held.
Almost the whole front is dominated by the
4.2" display
with 854x480 pixels resolution. This is actually one of the best looking displays we've seen. SE claims this is due to the Bravia software engine borrowed from Sony. No matter what the reason is, the fact is this is one gorgeous screen with very vibrant colors, but not the over-saturated ones we see in the AMOLED screens.
Another notable feature which we tried to test was the
Exmor R camera sensor
. What this means is that the CMOS sensor is back-illuminated, helping it out to make better low light pictures. According to Sony Ericsson reps, the sensor's light sensitivity is twice more compared to regular CMOS ones. We snapped a few shots and the results were very good, but before we can say for sure if this is just a marketing trick (like the Carl Zeiss lenses) or really helps out, we need to get our review units in and put it our thorough tests.
All the units here were early prototypes but still performed admirably well. Powered by the Qualcomm's 1 GHz processor, the UI felt admirably fast.
The operating system is Android 2.3 with some unique features added by Sony Ericsson such as the ability to create folders on the home screens pages and add shortcuts to them.
Our initial impressions from the Sony Ericsson Arc are very positive. Expect our preview next week.