Sony Ericsson X10 headed to AT&T by this summer?
This article contains unofficial information.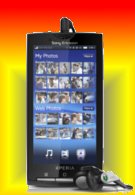 Although our
Canadian friends to the north
are already lining up to be the first in North America to check out the Sony Ericsson Xperia X10, AT&T customers may soon find themselves in the same boat shortly. Engadget's trusted source has stated that the carrier has inked a deal to get the high powered Android handset during fiscal week 30 of this year – which conveniently places itself some time during the end of July and early August. It's not to say that things will pan out accordingly, but it does offer some hope to the still starved AT&T customers who are waiting for something big to come their way. Some can argue Sony Ericsson's lack of following through in getting their devices out to the mainstream as soon as possible, but the summer is already looking to play out one fierce war that will happen in Android land. Right now the HTC Droid Incredible is pre-heating things up prior to the official arrival of summer, then the speculated release of the HTC EVO 4G for Sprint during the first portion of June will undoubtedly attract plenty of attention. The Sony Ericsson Xperia X10 may have the guts to tough it out with its high-end competitors, but it's going to need more to compel customers to go after it – let's hope Android
2.1
will be in tow beforehand.
Sony Ericsson Xperia X10 Specifications
|
Review
source:
Engadget