Some of our favorite tech companies share their thoughts for #WorldEmojiDay
6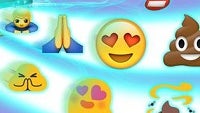 July 17th is "World Emoji Day," it got off to a tepid start last year, but all it takes is some wit, humor, and a hashtag to entice brands and entertainers to participate.
Now as the day closes out, and more than a quarter million Tweets later, there is something for everyone to smile at for World Emoji Day. Just like "May the Fourth," some of our well know tech companies and carriers had some fun with the occasion.
We waded through some of the trending topics and found many of the usual suspects, Sprint, T-Mobile, Samsung, and Microsoft had some fun to share. We threw in NASA's "love" of Pluto for good measure. After all, it doesn't get much more mobile than flying through space for 3 billion miles at 30,000 miles-per-hour, only to take a bunch of pictures and send them home.
Did you have a special emoji day?