Some iPhone 6 Plus units are suffering from a weird camera issue
51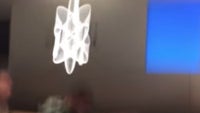 As far as the
iPhone 6 Plus
is concerned, it seems like Apple just can't catch a break. Between the #Bendgate fiasco and the controversy around the use of
inferior memory with the 128GB model
, one would think that iPhone 6 Plus users have enough to be apprehensive about. A new defect pertaining to the camera, however, is now cropping up with multiple users reporting that their particular 6 Plus unit is suffering from the same issue.
So, what's the problem? It's hard to explain, and you'll certainly need to check out the embedded video below, but let's just say that it seems like the optical image stabilizing gizmo is going nuts, creating extremely wavy footage. Unfortunately, the issue isn't limited to just video capture, with owners reporting that the camera is basically altogether useless.
On the bright side, Apple is likely already well-aware of the issue and several iPhone 6 Plus owners report having had their camera module or entire devices replaced thanks to its warranty. Unfortunately, if you're currently away from the device's home country, you'll likely either have to ship it back home or pay up at a local brick & mortar.
Tough start for Apple's first phablet.