Soldier's life saved by his Apple iPhone 5s; Apple waits three months to reward this hero
51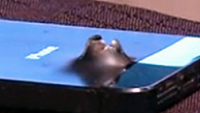 The
Apple iPhone 5s
has a lot of cool features including a fingerprint scanner embedded in the home button. But nowhere will you find any documentation stating that the phone is supposed to be equipped with lifesaving armor. Surely the iPhone is not tested to see if it can withstand the blast from a suicide bomber. Yet, that is exactly what happened in Afghanistan.
Staff Sgt. Shaun Frank was staring at a teenage suicide bomber who set off an explosion just feet away from Frank. The impact of the ball bearings and the shrapnel from the bomb should have killed the soldier, except that a miracle took place that day. Frank's Apple iPhone 5s absorbed some of the blast with its metal body able to absorb part of the impact, and deflect some of the shrapnel. If he had been sporting a plastic phone that day, Frank's body might have been riddled with holes. As it was, Frank was wounded by the attack.
Yes, the soldier's iPhone took one for the home team. It is broken beyond repair and not much is left of it. Apple gave him a choice of keeping the old hero, or getting a brand new iPhone 5s. He chose to keep the old busted unit as a memento. Now, the soldier is still in Afghanistan, fighting for the U.S., without a phone. His family back home in Utah is trying to get him a new one.
At first, Apple was silent about the whole matter. Donations were made to get Frank a new iPhone. But before the money could be used to purchase a new unit, Apple finally gave this hero what he deserved, a brand new Apple iPhone 5s. Which would have been a patriotic thing to do had the replacement been sent when the incident first took place three months ago. Now, it seems like a small hollow gesture on Apple's part, done only once the spotlight from the television news stations shone on the Cupertino based tech giant.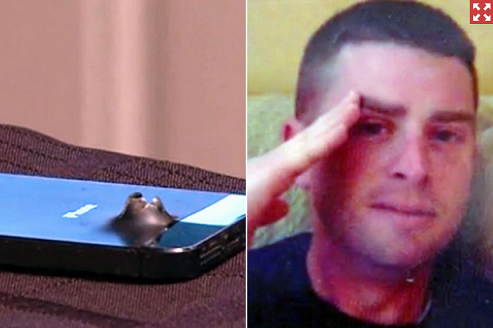 Staff Sgt. Shaun Frank (R) has his life saved by his Apple iPhone 5s
source:
KSL
,
NYPost