Snapdragon-powered Windows 8 PCs a reality for 2012 according to Qualcomm
17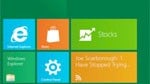 Wireless chip company, Qualcomm, is looking to enter the PC business. Currently, the company's Snapdragon chip is typically found in smartphones and tablets. Qualcomm is now working with Microsoft to make sure its next generation operating system, Windows 8, will be able to run on Qualcomm's ARM-based chipset.
With Windows 8, Microsoft hopes to blur the lines between PC and tablet. Qualcomm's chips tend to be not as powerful as some of the competitors, but are able to achieve superior energy efficiency and combine an application processor with a cellular radio, which allows them to always remain connected. Qualcomm believes that those features of its chips would make a great platform for Windows 8 devices.
Because most previously released software has been written for an x86 architecture, critics are quick to point out that older programs, say from Windows 7 or XP, will not run on a Snapdragon-powered PC. Steve Mollenkopf, Qualcomm's Chief Operating Officer, believes that moving forward, key applications would be re-written to operate on ARM and many programs run in a cloud environment and are accessible via an Internet browser.
He also makes a case that the iPhone and iPad both run on ARM-based chips and have achieved industry success even though they are unable to run legacy software. "For the apps that you really care about, I don't see it as a significant growth inhibitor in terms of ARM vs. Windows," he said. "I don't think the impact is as significant as what others believe."
So how soon could this be a reality? Qualcomm CEO, Paul Jacobs, predicts the last quarter of 2012. While he has a number of formidable opponents in this sector, including Nvidia, Texas Instruments, and Intel, Jacobs is confident about Qualcomm entering the PC market. He said, "We're comfortable with our technology portfolio. It's mainly because we've been focused on it longer and have more people working on it than anyone else in the industry."
source:
CNET
via
BGR