Snapchat reports lower Q3 growth and an upcoming redesign for Android; Snap shares tumble
8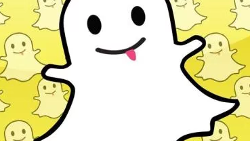 When Snapchat first launched, it was known for its "Mission Impossible" style messages that would disappear seconds after being read. Eventually, the app became known for other things such as its animated filters and Stories.
The company started selling Spectacles
, sunglasses with built-in cameras that take videos designed to be shared on social networks. Earlier this year,
Snapchat celebrated its 500 millionth download
.
Yesterday, Snapchat parent Snap released Q3 earnings. For the three month period, 4.5 million new Daily Active Users were added, lower than hoped for. The company also announced that it will redesign the Android version of the Snapchat app. The new version will be first rolled out in select markets before it is pushed out to all Android users. The goal is to fix the issues that have users of the app complain that it is "too difficult to understand," and "hard to use."
Snapchat has been making small changes, such as the new updated architecture for Stories playback. This means that a complete video file doesn't have to be loaded before playback begins. Snapchat is also looking at working with carriers to provide the Snapchat community with lower cost cellular connectivity. And
Stay Tuned
, a twice-daily news show produced in partnership with NBC, reached 12 million 13 to 24 year-old viewers in the United States in September. That made it one of the most popular news shows for young viewers.
In addition, CEO and co-founder Evan Spiegel said that Snapchat is most likely the most used camera in the world with 3.5 billion Snaps created daily. That figure is up 40% year-over-year.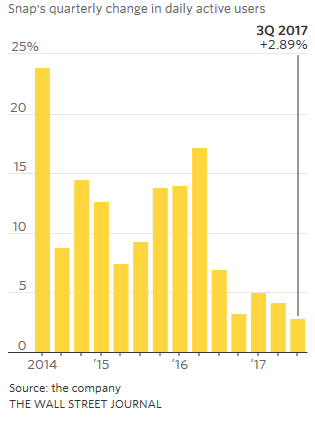 Snap's quarterly growth rate is in decline
With 178 million Daily Active Users, Snapchat reaches more than 70% of 13-34 year-olds in the U.S., U.K., France, and Australia. The goals for 2018 include capturing users above 34, and signing up more Android users. It also wants to create more distribution and monetization opportunities for those who create public stories on Snapchat.
Not everything is peachy keen with Snap. The company had some problems switching from direct ad sales to the auction process used by Facebook and Google. Thus, prices for ads slid by 60% year-over-year. The company also lost $40 million on its inventory of unsold Spectacles. Combined with the slower than expected growth it reported, Snap's shares took a beating in after-hours trading yesterday. At the 4pm close of the regular trading day on Tuesday, the stock closed at $15.12; after the earnings were announced, the slower growth and announcement of an Android redesign combined to knock the stock down by over 17% to $12.53.
For the third quarter, Snap lost $443.2 million, or 36 cents a share. That compares with last year's third quarter loss of $124.2 million. Expenses rose by more than 250% year-over-year.
source: Snap