Smartphones projected to as 28% of handsets sold this year, Nokia the big loser of Q1
30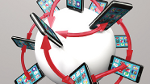 The smartphone boom is in full swing these days. According to market research and consulting firm IMS Research, 2011 will see over 420 million smartphones sold, which would be 28% off all handsets sold. However, while the numbers look good overall, they don't look good for everyone.
IMS also shows numbers for manufacturer sales comparing Q1 of 2010 to Q1 this year, and the numbers aren't great for everyone. Nokia took the biggest dive as it makes the switch to Windows Phone 7 devices. Looking at year-on-year numbers for Q1, Nokia dropped from 40% of smartphone sales in 2010 to just 24% this year, which was still good enough to make Nokia the biggest manufacturer for Q1 2011. But, moving into Q2, Nokia kept dropping with sales at just 16.7 million, which represented a 34% drop over Q2 2010.
Not surprisingly, BlackBerry also saw a significant drop in market share, while Apple and HTC saw a slight increases. The big winner was Samsung, which increased its market share of sales from just 3% in Q1 2010 to 13% in Q1 2011.