Smartphones are catching up with $2,000 cameras in terms of video recording, and here's the proof
55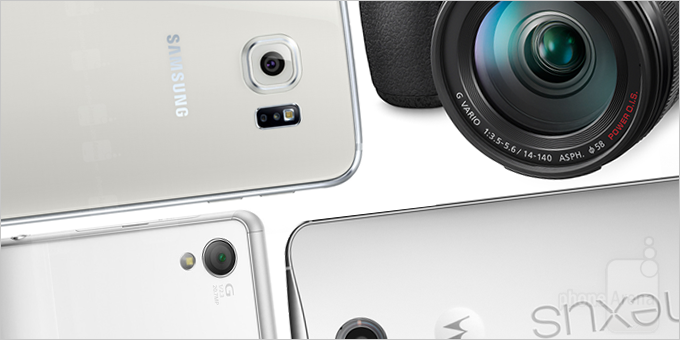 For years now, smartphones have been pummeling the sales of point-and-shoot cameras, and for good reason. As they say, the best camera often is the one you have on you, ready to snap a picture. And so, as smartphone cameras continued to be relentlessly improved, so did the appeal of a dedicated camera kept closing in on zero. But a full-fledged mirrorless camera? That's another topic — at least according to many.
Right off the bat, we'll admit that by no means will a top-of-the-line smartphone measure up against a quality camera, specifically if used by a professional. And yet, phone cameras have been getting closer and closer, up to a point where a mirrorless camera or a DSLR used in Auto is not
significantly
better in terms of the results rolling into its internal storage. In fact, if we focus on just video recording, it's fair to say that smartphones are very much catching up — the very best already outshine cheaper dedicated cameras. For today's comparison, we didn't pick just any camera, however. We'll be comparing three Android heavyweights — the Samsung Galaxy S6, the Google Nexus 6, and the Sony Xperia Z3 — against Panasonic's excellent Lumix GH4.

Released in 2014, the GH4 is an upper mid-range mirrorless camera, and among the very first to offer 4K UHD video recording in what is still a consumer class price range. At launch, the
body
of the GH4 cost $1,500, and the lens we're using with it costs $400 today (Lumix G Vario HD 14-140 mm). Even without it, the GH4 is tens of times bulkier, not to mention much heavier at 19.75 oz (560 g). All this space allows for some pretty sophisticated optics to be included, along with a 224.9 sq. mm image sensor. Compared with the units available on the Galaxy S6 (~19.8 sq. mm), Nexus 6 (~16.4 sq. mm), and Xperia Z3 (~28.5 sq. mm), that's quite the significant advantage on paper. But it doesn't translate into quite as compelling a lead in terms of video recording, as we're about to showcase.
Let there be light!
For the purposes of this comparison, we shot some test footage with all four devices in 4K UHD resolution (3840 x 2160), and then extracted snapshots from the raw files to create crops. We used Lancsoz resampling for all re-sizing, and saved the files in a 100% JPEG. The images below have been sized to fit our site's layout, but you can check out the original snapshots, along with the raw footage they were extracted from, in the slideshow below each scene.
Scene 1
This shot was taken on a sunny day, with nearly no clouds in sight to block the sun's rays. This particular composition is well-suited to draw conclusions on the level of details offered by each device, dynamic range, and white balance. Overall, the GH4 manages to resolve a rather insignificant amount of details more than the rest, but the sky is visibly grey when it should be a very light blue. It is possible that this is owed due to the fact that the framing is a bit different with the GH4, and less of the sky is visible, confusing the camera's automatic algorithms. The Xperia Z3 fails to impress due to that nasty, purplish overcast, while the Nexus 6 is almost there, but offers colors that are a bit too saturated (notice the red in the car). As we expected, the Galaxy S6 delivered a very natural shot full of details, though Samsung's flagship, like the other smartphones on the list, chose to expose the image a notch less compared to the GH4.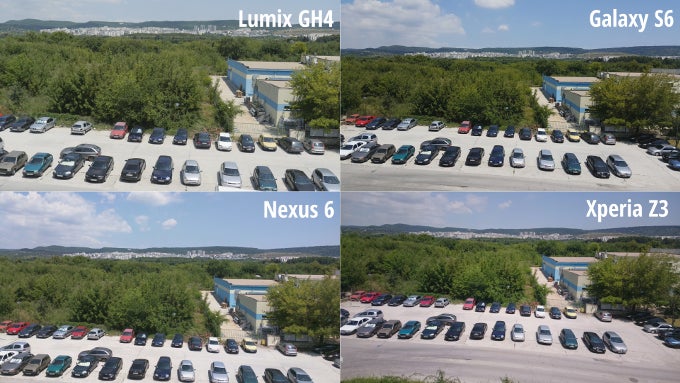 Thumbnails of all four snapshots. Notice that the differences in framing are due to different optics.

Scene 2
Our second scene is quite dynamic, and thus challenging, as you're about to see. This actually turned out to be the one composition that the Lumix GH4's algorithms took an entirely different approach compared to the smartphone camp's. Indeed, the GH4 obviously put priority on not allowing any part of the scene to be overexposed, producing very dark footage in the process. In comparison, all three phone cameras had no such qualms, and allowed the bright spot at top middle portion of the scene to burn, while keeping the rest of the scene visible. While the Xperia Z3 again had troubles with white balance, the Nexus 6 and Galaxy S6 performed excellently, delivering true-to-life colors and a truckload of fine detail that simply isn't visible in the GH4's snapshot.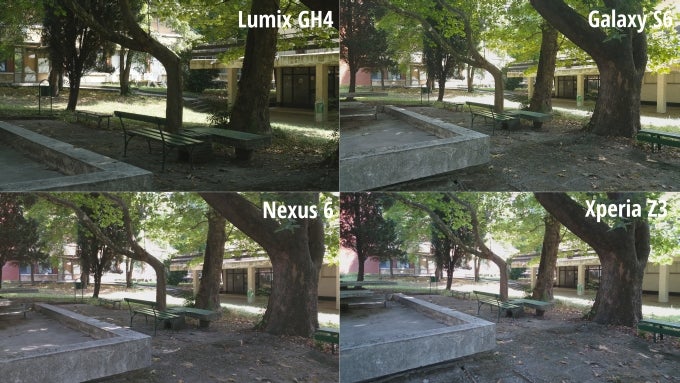 Thumbnails of all four snapshots. Notice that the differences in framing are due to different optics
Scene 3
Our third scene turned out to be quite alike to our first, though quite a bit more dynamic. Thankfully for camp Panasonic, however, the Lumix GH4 didn't have troubles with setting a proper white balance this time around, and resolved a very realistic image. Here, too, the smartphone group went with an exposure level a tad lower than the GH4's, and in result delivered a
slightly
darker than optimal image (mind, the GH4 went a bit too far as well, but in the other direction). In conclusion, it's probably fair to call this a tie — both categories of devices delivered comparable footage, save for the Xperia Z3, which went down the purple path once again.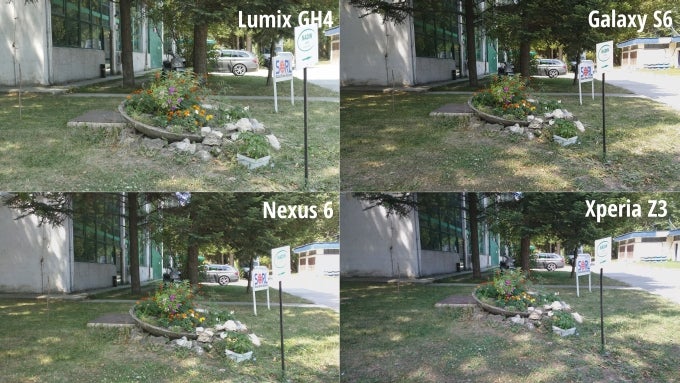 Thumbnails of all four snapshots. Notice that the differences in framing are due to different optics.
Scene 4
Our last daylight composition was included to mostly showcase one very clear distinction in the way footage is compressed — smartphones at large, especially the Galaxy S6, sharpen images significantly, while the GH4 goes for a softer look. This is plainly visible with the curb, and we were able to draw out the exact same look out of the camera's clip by just applying some sharpening in Photoshop or by using a different internal profile

Moving on, with the exception of the Xperia Z3 (which rendered the composition with a dreadful purple tinge), and the Nexus 6 (overly saturated hues), the Galaxy S6 and Lumix GH4 delivered very comparable results, though the latter did do better overall thanks to the slightly higher exposure it chose, which ended up revealing more details in darker portions of the image.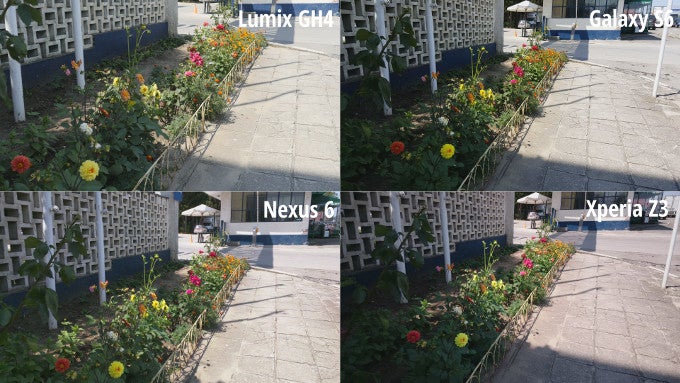 Thumbnails of all four snapshots. Notice that the differences in framing are due to different optics
Lights out
Next up, it was time to really strain the comparatively tiny sensors on our three contestants from the smartphone family, and give the Lumix GH4 its best chance to defend its much higher asking price in terms of video, by taking some test footage in medium and very low light.
Scene 5
First, we started out with a video clip shot in medium light inside our photo studio. As the results below show, the GH4 had the best showing, but not by much, closely followed by the Galaxy S6 and even the Xperia Z3, which finally managed a proper white balance. Still, in terms of the detail resolved, Sony's smartphone fell behind, delivering visibly soft footage. The Nexus 6 pretty much flopped.
If anything, it was the Galaxy S6 again that managed to give the GH4 a run for its money, even though it failed to match the faithfulness of the scene as well as Panasonic's camera (notice the color of the wall). Still, all things considered, that was a pretty good showing for a sensor more than ten times smaller than its opponent.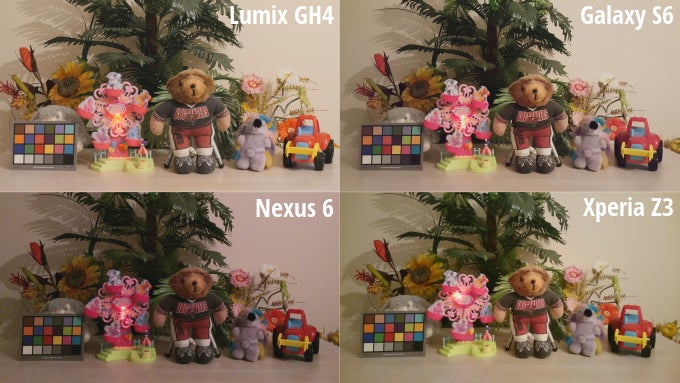 Thumbnails of all four snapshots.
Scene 6
Medium light, challenging though it may be, is nothing compared to scenarios where smartphone cameras have to perform in
very
poorly lit environments. But the results, despite our expectations, showed that the GH4 nevertheless didn't completely massacre its tiny competitors.
Once again, only one of our trio of smartphones managed to launch a challenge, and that was the Galaxy S6. We won't beat around the bush, though — it still performed worse than the GH4, whose much larger camera sensor had no trouble letting enough light in to render a realistically bright image. That said, the GH4 once again went a bit too far, and actually overexposed the composition — the real thing was actually noticeably darker. Still, fair is fair, and we have to give it to Panasonic for the level of detail it managed to preserve — there was none of the mushiness of the shot from the S6.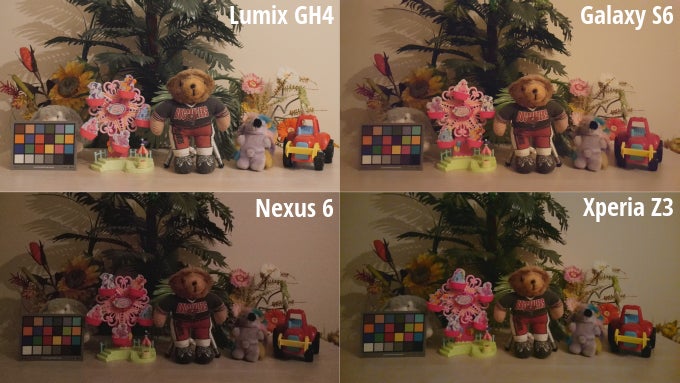 Thumbnails of all four snapshots.
Fluid, too?
Before we were ready to sum up our findings, we thought it's a good idea to take some footage of stuff that actually moves just so we can compare the fluidity of the recorded clips in terms of panning and moving around. It's worth pointing out that all four of our contestants shoot 4K UHD at 30 frames per second (FPS), though the Lumix GH4 can also do "cinematic" 4K UHD @ 24 FPS. This particular shooting mode is mostly seen being used in theaters, with the vast majority of movies nowadays released in 24 FPS (though HFR (48FPS) is trending up with the likes of The Hobbit: The Battle of the Five Armies).
This is also where we note that all devices on our list save for the Xperia Z3 offer optical image stabilization, while Sony's handset relies on a rather decent software implementation. Right off the bat, however, it was obvious that its footage was on the shakier side, whilst the Nexus 6 offered the smoothest recording of the phone group, surpassed only by the Lumix GH4. What advantage the Nexus 6 had on the Galaxy S6 in terms of stabilization, however, it more than squanders with its insecure, jumpy auto focus. So a win for the Lumix GH4, but smartphones again prove they're just not that far behind, especially if you consider that one of them is just 0.27 inches-thick (6.8 mm) and weighs over four times less than Panasonic's mirrorrless camera (body only!).
Conclusion
So what are we to make of all this? After all, save for Scene 2, the Panasonic Lumix GH4 did prove
a teeny bit
better at video capture when light is abundant, and generally superior in low light. A professional would coax even better performance out of it, and it's unlikely that a compact smartphone will ever prove as versatile and capable as a mirrorless camera or a DSLR in the hands of a videographer. True that may be, but you have to consider a number of irrefutable facts that clearly showcase that smartphones, indeed, are catching up.
For starters, and this is the most important consideration, the camera gear we used here is no joke, and costs almost $2,000 to get your hands on today. That's three times more than you'd pay for, say, a Galaxy S6, which also doubles up as a phone, multimedia & entertainment hub, browser, and so much more. Secondly, while all three phones will fit in your pocket — yes, even the Nexus 6 — lugging around the GH4 is actually tiresome! And in that context, the performance of our trio of smartphones is actually admirable — they competed with optics and image sensors only a fraction of the size of those available with the GH4. Sure, the latter can do optical zoom, but that was still a pretty convincing performance, and if we picked a more affordable camera, the smartphones likely would have compared even better.
Of course, this is the part where we mention that not all smartphones were made equal, and it was the S6 that offered our mirrorless camera a run for its money. The Nexus 6 did pretty well, too, but poorly lit environments proved too challenging for its tiny sensor (the smallest of the bunch), while the Xperia Z3 disappointed with its consistent purple fringe.
Smartphone cameras are catching up with expensive, dedicated cameras in terms of video recording, and this was our proof. Discuss!